Alex Dorpenberger is a recurring character. He is voiced by Jason Mantzoukas.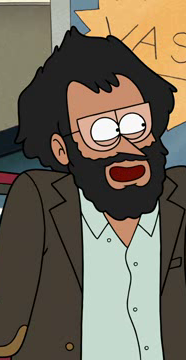 about
[
]
characteristics: somewhat chubby, dark skin, black eyes, black hair, intelligent, yet tends to be reckless and childish, somewhat arrogant, eccentric, loyal, altruistic
animated age: in his 30's
created in: 2020
species: human
comes from: Close enough
nationality: American
religion: Christian
race: traditionally-animated
subrace: positive character
family: Bridgette (ex-wife)
occupation: teacher
trivia:
Like Josh, he is a fan of Jim Carrey.