Angella is a secondary character. She is voiced by Reshma Shetty and has a British accent.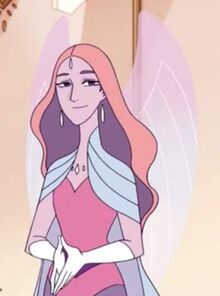 She is a wealthy and influential lawyer in Movietown, as well as Glimmer's overprotective mother.
about
[
]
characteristics: tall, sender, curvy, long pink-purple hair, lavender skin, purple eyes, beautiful, calm, overprotective, selfless, insecure, loving, strict, stubborn, diplomatic
created in: 2018
species: angel
nationality: American
religion: Christian
race: traditionally-animated
subrace: positive character
come from: She-Ra and the Princesses of power
family: Glimmer (daughter)
occupation: lawyer
relationships:
Glimmer: Glimmer is Angella's daughter, but despite this, they very often argue and fight, due to their different points of view- Glimmer wants a more active part in the war, while Angella prefers the "safer" ways. However, the two care deeply about each other. Angella still supports her daughter, despite being worried about her.