Bloth is a minor antagonist. He is voiced by Tim Curry.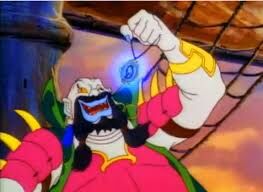 A greedy pirate, whose main goal is to steal treasures. He appears in Old school musical as a major antagonist.
about
[
]
characteristics: tall, plump, muscular, white skin, yellow eyes, ugly, evil, sadistic, ruthless, greedy, selfish, easily-annoyed, impatient, rude, arrogant
created in: 1991
species: alien
comes from: The pirates of Dark water
nationality: American
religion: Christian
race: traditionally-animated
subrace: negative character
trivia:
His original actor was the late Brock Peters.
He has great physical strength.
In Old school musical, Bloth is once referred to as "Bloth the Ox" to which he angrily responds with "It's just Bloth!". This is a reference to the running gag in the film Men in black 3, wherein the main antagonist Boris is nicknamed "Boris the Animal", and when a character calls him such, he always responds with "It's just Boris!".