Chief is a recurring character. He is voiced by Bryan Cranston.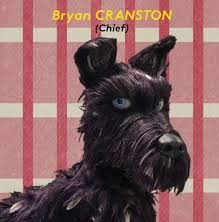 about
characteristics: slender, messy black (unnatural) fur with white hairs, blue eyes, stubborn, loyal, seeks self-perfection, insecure, brave
created in: 2018
species: domestic dog
nationality: American
religion: Christian
race: stop-motion animated
comes from: Isle of dogs
subrace: positive character
occupation: security guard
trivia:
He shares his actor with Vitaly.