m

 

m

Tags: apiedit Visual edit

 

(5 intermediate revisions by the same user not shown)
Line 1:
Line 1:
−

Crane is a protagonist. He is one of the royal guards. He is voiced by David Cross.

+

Crane is a protagonist. He is voiced by David Cross.

−

[[File:-1403418403.jpg|thumb|305x305px]]

+

[[File:-1403418403.jpg|thumb|]]

 
+
 
+

== About the character ==

 
+

'''Characteristics''': tall, slender, white and black feathers, yellow hat, yellow eyes, blue pants, purple belt, handsome, kind, confident, fearless, patient

 
+
 
+

'''Animated age''': unknown

 
+
 
+

'''Real age''': 7 real years old

 
+
 
+

'''Species''': Black-necked crane

 
+
 
+

'''Fun facts''': He is allergic to silk and he is ambidextrous.

 
+
 
+

'''Relationships'''- He is very nice to the citizens of [[Movietown]].[[Category:Characters]]

 
+

[[Category:Animated characters]]

 
+

[[Category:Computer-animated characters]]

 
+

[[Category:Birds]]

 
+

[[Category:Male characters]]

 
+

[[Category:Anthropomorphic characters]]

 
+

[[Category:Animals]]

 
+

[[Category:Royal guards]]

 
+

[[Category:Americans]]

 
+

[[Category:Citizens of Movietown]]

 
+

[[Category:Members of the royal army]]
---
Latest revision as of 17:26, 22 May 2016
Crane is a protagonist. He is voiced by David Cross.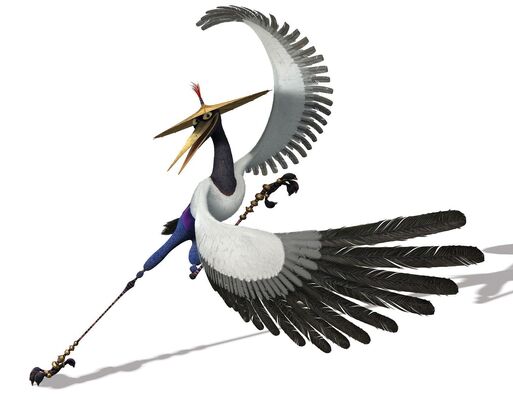 About the character[]
Characteristics: tall, slender, white and black feathers, yellow hat, yellow eyes, blue pants, purple belt, handsome, kind, confident, fearless, patient
Animated age: unknown
Real age: 7 real years old
Species: Black-necked crane
Fun facts: He is allergic to silk and he is ambidextrous.
Relationships- He is very nice to the citizens of Movietown.