Dawn Bellwether is a secondary antagonist. She is voiced by Jenny Slate.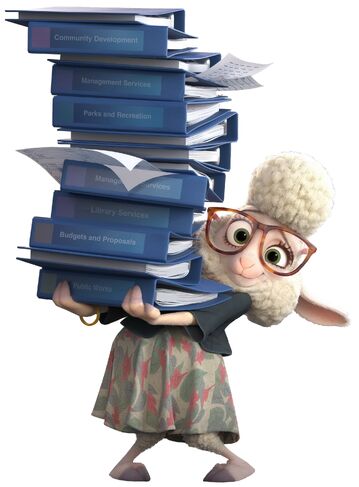 She can always be seen accompanying
Toffee
as his assistant.
About the character
Edit
Characteristics: short, slender, green eyes, white fur (wool), glasses, blue coat, multicolor skirt, beautiful, cute, evil, intelligent, sly, ruthless, manipulative
Real age: 4 real years
Species: Sheep
trivia:
Her clothes are made of wool.
The term "bellwether" refers to a sheep, that leads a herd.
Ironically "Dawn" means "daybreak".
In all her appearances, she can be seen right next to Toffee, as his assistant. The human thief is the only episode where she appears without him.
Race: Computer-animated
Subrace: Antagonist
Religion: Christian
Breed: Border Leicester sheep
Nationality: American
Profession: Assistant of a majordomo
Comes from: Zootopia
relationships:
Toffee: She is rarely seen without her boss. Bellwether is very obedient towards him, as she follows his orders without hesitation. She works hard, in order to do the work properly. Bellwether is implied to care about her boss, as she showed a little concern for him in the episode Toffee's list.