Dr. James Possible is a minor character. He is voiced by Gary Cole.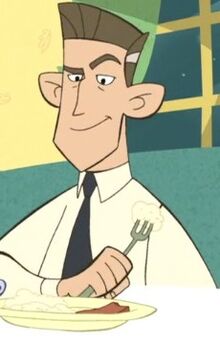 He is an astrophysicist in El Filmjefo and the man in charge of the planetarium. He is also the loving father of Kim Possible.
He appears in Old school musical as a supporting character.
Characteristics: slender, tall, dark skin, brown hair, black eyes, handsome, kind, friendly, intelligent, polite, loving, overprotective
created in: 2002
Species: human
race: traditionally-animated
subrace: positive character
comes from: Kim Possible
nationality: American
religion: Christian
occupation: astrophysicist; manager of the planetarium
family: Kim (daughter); Jim and Tim Possible (sons); dr. Ann Possible (wife)
full name: dr. James Timothy Possible
relationships:
Kim: dr. Possible is a devoted family man and his relationship with his daughter is an example. He loves her deeply, although he can be quite overprotective. During his appearance in Old school musical, he asked her to accompany him at work, where he introduced her to the employees and the Cresselia. After Kim shares her first impressions of Reggie, dr. Possible tells her to be more understanding and give Reggie some time.
Reggie: Reggie is an employee in the planetarium dr. Possible runs. Reggie and the astrophysicist treat each other with a lot of respect and have very friendly interactions with each other. When he introduced Kim to the werewolf, he hoped that the two can become friends, due to both being teenagers. He defended Reggie when Kim doubted that they can be friends.
trivia:
He and his daughter are the only members of the Possible family featured in the show so far.
Community content is available under
CC-BY-SA
unless otherwise noted.