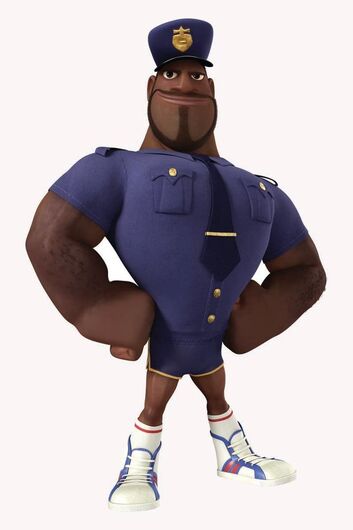 Earl Devereaux is a secondary character. He is voiced by Terry Crews.
Despite having many appearances in the show, his roles are usually minor.
About the character
Edit
Characterstics: tall, muscular, brown hair, brown eyes, blue clothes, blue hat, white shoes, brown beard, handsome, good-natured, athletic, fearless, loving, tough
Real age: 8 real years old
Family: Cal Devereaux (son)
nationality: American
religion: Christian
comes from: the Cloudy with a chance of meatballs franchise
race: computer-animated
subrace: positive character
species: human
profession: police officer
Fun facts:
His name means "nobleman" and "warrior".
There is a possibility that his name may be a reference to a line from the book "Little women": "I can do more, for even your ambitious soul cannot refuse the Earl of Devereux and De Vere, when he gives his ancient name and boundless wealth in return for the beloved hand of this fair lady, now my wife." It is unknown if the reference is intentional or not.
His original actor is Mr.T.
Relationships- He is loyal to the Movietownains and has a son, who lives in Filmville and who he loves very much.
Community content is available under
CC-BY-SA
unless otherwise noted.