Gaito is an antagonist. He is voiced by Steven Blum.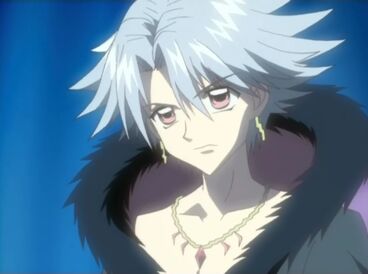 about
[
]
characteristics: slender, grey hair, purple eyes, pale skin, handsome, evil, calm, collected, sadistic, charismatic
real age: 14 real years
species: Panthalassa
nationality: Japanese
religion: Shinto
race: traditionally-animated
subrace: negative character
relations: Kaito (twin brother)
comes from: the Mermaid melody pichi pichi pitch franchise
relationships:
Kaito: When he and his brother are together, they show some kind of feud towards each other, since each of them belongs to a different race. The two usually fight and argue and most toons think that they probably hate each other. Gaito usually claims that he and his brother have nothing between them, but deep down he does care about him. There is a possibility that this facade is in order to protect his brother.
trivia:
His original actor is Daisuke Kishio.
He is the older twin.