Gene Belcher is a major character. He is voiced by Eugene Mirman.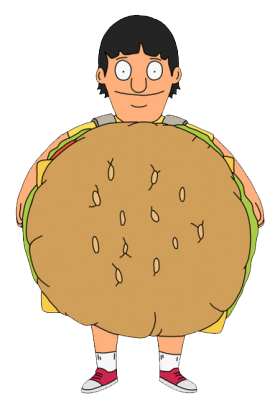 About the character
[
]
Characteristics: plump, black hair, black eyes, yellow T-shirt, blue pants, red shoes, kind, energetic, eccentric, goofy, creative, brave, excitable, loyal, clueless, keyboard-playing
Animated age: 11 cartoon years
Real age: 5 real years
Species: Human
Profession: Pupil
Family: Bob Belcher (father), Linda Belcher (mother), Tina Belcher and Louise Belcher (sisters)
Nationality: American
Religion: Christian
Comes from: Bob's burgers
Race: Traditionally-animated
trivia:
He is the middle one of the Belcher siblings.
relationships:
his parents: He does not listen much to his parents, but he loves them. Though he is not very close with his father, as much as he is with his mother.
his sisters: He usually can be seen with them. Gene listens to what Louise told him to do and is usually oblivious to what happens around.