General Skarr is a minor antagonist. He is voiced by Armin Shimerman.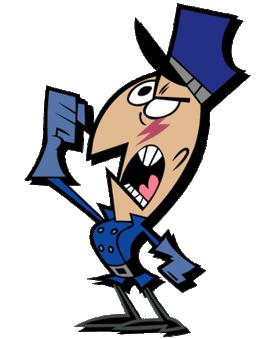 He appears in The good, the bad and the misunderstood, as a major antagonist, alongside his boss Hector, whom Skarr strongly dislikes.
characteristics: slender, bald, black eye, a scar, evil, sadistic, greedy, dishonest, untrustworthy, clumsy, foolish
created in: 2001
species: human
nationality: American
religion: Satanist
race: traditionally-animated
subrace: negative character
comes from: Grim and Evil; Evil Con Carne
occupation: soldier
full name: Reginald Peter Skarr
trivia:
His design bears strong resemblance to the Fearless leader from Rocky and Bullwinkle.
Despite his usual cruelty, he has shown, on occasions, that he has somewhat of a soft spot towards small animals.
He never recognizes a bomb, when he sees one.
Community content is available under
CC-BY-SA
unless otherwise noted.