Heppokomaru, also known as Gasser, is a character. He is voiced by Brad Macdonald.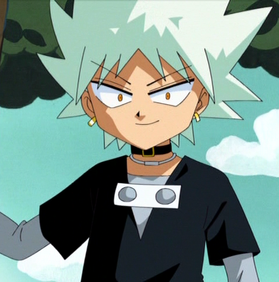 Most of the time he appears as a secondary character, but he does have some major roles as well.
characteristics: tall, slender, white hair, yellow eyes, handsome, kind, brave, protective, selfless, loyal, mature, level-headed, comedic, easily-offended
animated age: 17 toon years
real age: 14 real years
species: human
comes from: Bobobo-bo Bo-bobo
race: traditionally-animated
subrace: positive character
nationality: Japanese
religion: Shinto
profession: works in a factory
relations: Beauty (girlfriend)
nicknames: Beauty calls him "He-kun" and everyone else often call him "Gasser".
relationships:
Beauty: He has strong feelings for her and is shown to be very protective towards her.
trivia:
His nickname Gasser is actually his real name in the English dub of Bobobo-bo Bo-bobo.
In the original dub of Bobobo-bo Bo-bobo, he is voiced by Naomi Shindo.
If he loses his collar, he starts acting like an infant.
Community content is available under
CC-BY-SA
unless otherwise noted.