Hervnick Z. Snerz is a minor antagonist. He is voiced by Eddie Izzard.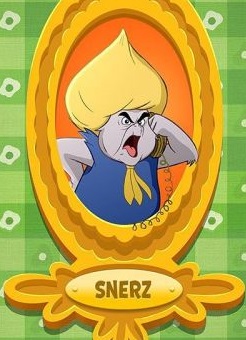 He appears as a major antagonist in Something..something between us, wherein he hires poachers to catch some Pokémon, which he can add to his collection of pets.
Characteristics: grey fur, black eyes, short, plump, evil, selfish, possessive, unforgiving, vain, narcissistic, impatient, cruel, mean
created in: 2019
species: who
comes from: Green eggs and ham
race: traditionally-animated
subrace: negative character
nationality: American
religion: Christian
occupation: owner of the farms in Antagonistan
Community content is available under
CC-BY-SA
unless otherwise noted.