Hunter is a major character. He is voiced by Kelsey Grammer and has a Mid-Atlantic accent.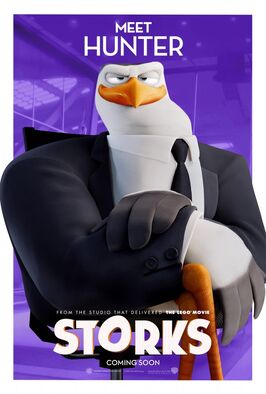 About the character
Edit
Characteristics: white and black feathers, blue eyes, orange beak, black coat, white shirt, handsome, vain, selfish, strict, narcissistic, wisecracking, stubborn, comedic
Real age: 2 real years
Species: White stork
Profession: Majordomo
Comes from: Storks
Race: Computer-animated
Subrace: Negative character
Nationality: American
Religion: Christian
catchphrase: "I would describe it as..."
influence on other toons: Due to his rude and arrogant behaviour, Hunter is not very popular among his employees. Pretty much everyone in town claim that they cannot stand him, but they still listen to him, since he is the majordomo. Hunter has a habit of threating them that he will fire them, if they refuse doing something.
Relationships:
Fun facts:
Coincidentally his favourite show is "Frasier".
Queen Tara strictly forbid him to be cruel to anybody and that's the reason (at least in other cartoons' minds) why he wants to become close to his employees from time to time.
Hunter is also a skilled singer.
His relationship with Death the Kid is actually inspired by the relationship between the characters Niles and C.C. Babcock from the sitcom "The nanny".
He does not like teenagers and immigrants.
He shares his actor with Stinky Pete and Rothbart.
Community content is available under
CC-BY-SA
unless otherwise noted.