Jackie Chan is a secondary character. He is voiced by James Sie.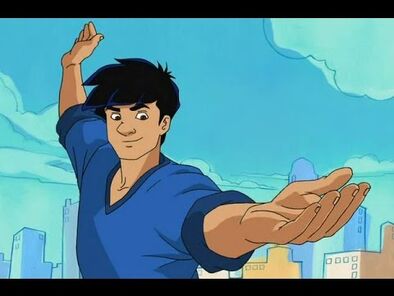 characteristics: tall, broad-shouldered, muscular, black hair, black eyes, handsome, intelligent, witty, comedic, rational, gentle, polite, high sense of morality, responsible
real age: 18 real years
species: human
race: traditionally-animated
subrace: positive character
occupation: scientist and explorer
comes from: Jackie Chan adventures
nationality: American
religion: Christian
family: Jade (first-cousin-once-removed, though he refers to her as his niece); Uncle (uncle)
relationships:
Jade: Usually he is trying to teach her responsibility, but she often ignores his advice. Despite this the two care about each other.
Uncle: His uncle often shows sour attitude towards him, but the two still love each other.
trivia:
He is based on the actor with the same name.
Community content is available under
CC-BY-SA
unless otherwise noted.