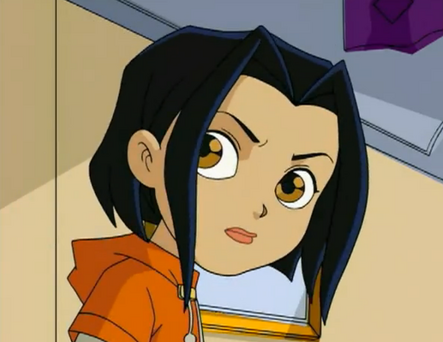 Jade Chan is a secondary character. She is voiced by Stacie Chan.
characteristics: slender, black hair, brown eyes, orange shirt, blue pants, red shoes, sockless, beautiful, adventurous, sassy, snarky, disobedient, irresponsible, impatient, enthusiastic, reckless
animated age: 12 toon years
real age: 18 real years
species: human
race: traditionally-animated
subrace: positive character
comes from: Jackie Chan adventures
nationality: American
religion: Christian
family: Jackie (cousin though she prefers referring to him as her uncle); Uncle (uncle)
relationships:
Jackie: She usually disobeys him when he tells her to do something but despite this she still admires him strongly and is proud to be related to him.
Uncle: He often acts politely towards her. Jade's usual attitude to him is a bit cold (she does not find his company very fun or interesting), but she does love him.
Community content is available under
CC-BY-SA
unless otherwise noted.