Jonathan Loughran is a secondary character. He is voiced by Andy Samberg.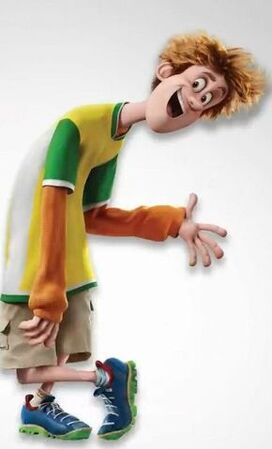 About the character
Edit
Characteristics: slender, ginger hair, blue shoes, baige pants, yellow-green-orange shirt, brown eyes, handsome, kind, friendly, optimistic, enthusiastic, goofy, energetic, loud, loving
Animated age: 28 toon years
Real age: 6 real yers
Species: Human
Profession: Works in a comic book store
Race: Computer-animated
Comes from: the Hotel Transylvania franchise
Family: Mavis (wife), Dracula (father-in-law), Dennis (son); Junior (best friend)
Nationality: American
Religion:Christian
Nicknames: His wife calls him "Johnny".
relationships:
Dracula: Jonathan cares about his father-in-law, despite that he often receives snarking from him.
Mavis: He is deeply in love with his wife Mavis and most of the time is quite patient and tolerant towards her. Although, he sometimes lacks the courage to tell her his true opinion.
Dennis: He is a pretty loving father towards his son.
Junior: The two have been best friends, ever since Junior was created. They enjoy going to the sports' center and to the arcade together.
trivia:
He shares his actor with Junior.
He wears contact lenses.
His name is a reference to the actor Jonathan Loughran.
He is a surprisingly skilled singer.
He is a fan of Dave Matthews and LMFAO.
Community content is available under
CC-BY-SA
unless otherwise noted.