Judy Hopps is a main character. She is voiced by Ginnifer Goodwin.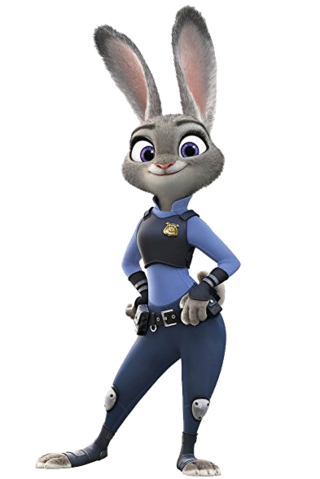 ABOUT THE CHARACTER
Edit
Characteristics: short, slender, curvy, grey fur, blue uniform, purple eyes, cute, beautiful, kind, friendly, intelligent, persistent, optimistic, upbeat, forgiving, patient, enthusiastic, polite, selfless, girly, generous
Animated age: 24 cartoon years
Real age: 1 real year
Species: Rabbit
Religion: Christian
Nationality: American
Profession: Policewoman
Nicknames: Nick often calls her "Carrots" and her father calls her "Jude the dude".
Family: Stu and Bonnie Hopps (parents)
Full name: Judith Laverne Hopps
Fun facts:
Her ears often drop when she's upset and her nose twitches when she is scared.
She is also Fawn's colleague.
Her name means "She will be praised" or "Woman of Judea".
She ia a fan of Gazelle.
Comes from: Zootopia
Relationships: Judy loves both her family and her friends and she is really loyal to the queen and the citizens of Movietown.
Community content is available under
CC-BY-SA
unless otherwise noted.