Katie Killjoy is a recurring antagonist. She is voiced by Faye Mata.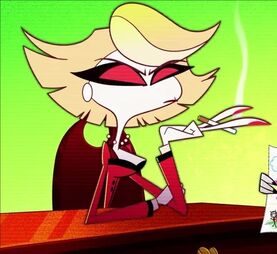 She is a TV journalist in Antagonistan, who cares only about finding the latest news. As a result, and because of her unpleasant personality as well, many toons dislike her.
As a TV journalist, she is one of The Horned king's sources of information about his subjects' failures and the situation in his kingdom.
characteristics: slender, tall, curvy, white skin, red eyes with very small yellow pupils, blonde hair, beautiful, evil, arrogant, self-centered, cruel, vulgar, rude, mean, ambitious, disrespectful, hypocritical, hot-tempered
animated age: in her 40s
created in: 2019
species: demon
nationality: American
religion: Satanist
race: traditionally-animated
subrace: negative character
comes from: Hazbin hotel
occupation: TV journalist
Community content is available under
CC-BY-SA
unless otherwise noted.