Kim Possible is a minor character. She is voiced by Christy Carlson Romano.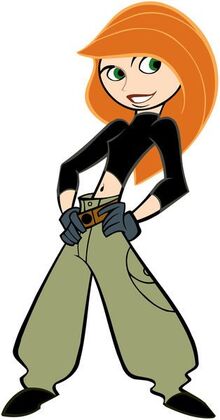 She is a well-known and successful secret agent in El Filmjefo, as well as the daughter of a local surgeon and scientist.
She makes an appearance in Old school musical as a major character.
Characteristics: slender, tall, curvy, green eyes, ginger hair, beautiful, sassy, kind, friendly, athletic, cocky, stubborn, intelligent, rational, slightly shallow
created in: 2002
animated age: 17 toon years
Species: human
race: traditionally-animated
subrace: positive character
comes from: Kim Possible
nationality: American
religion: Christian
occupation: secret agent
family: Dr. James Possible (father); dr. Ann Possible (mother); Jim and Tim Possible (brothers); Ron Stoppable (boyfriend)
full name: Kimberly Ann Possible
relationships:
her father: She loves her father, but they still have moments of mutual disagreement. When dr. Possible tried to introduce her to Reggie, Kim told him she doubts that the two can become friends, due to the fact that they are from different time periods (with her being from the early 2000's and Reggie being from the early 90's). Her father advices her to give Reggie a chance.
Reggie: Kim meets Reggie when her father introduces her to him. Despite her father's intentions, she quickly comes to the conclusion that she has nothing in common with Reggie, claiming that despite being close in animated years, they are very distant in real years. After the pirates' attack, Kim must save the werewolf, as he was kidnapped by them. When she succeeded in saving him, the teenagers begin working together and during the time, Kim discovers how much Reggie's job mean to him and how close he is with her father.
trivia:
She shares her actress with Trina.
Her name is a pun of the word "impossible".
She and her father are the only members of the Possible family featured in the show so far.
Community content is available under
CC-BY-SA
unless otherwise noted.