King Fergus is a major character. He is voiced by Billy Connolly and has a Scottish accent.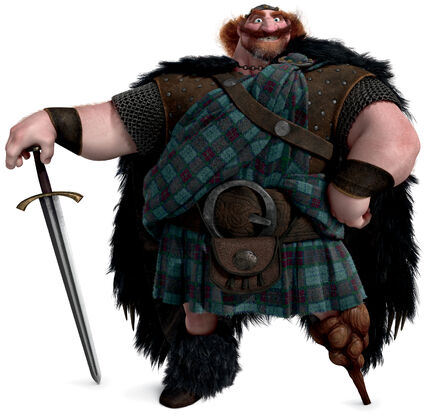 Along with his wife, he is the ruler of Filmville. Unlike his wife, who is a superior diplomat, Fergus is more skilled as a warrior, and as such, he frequently leads his army.
He and Elinor are the parents of princess Merida and the young princes Harris, Hubert and Hamish.
About the character
Characteristics: tall, plump, red hair, blue eyes, colorful clothes, a pegleg, ugly, strong, loving, hot-tempered, funny, friendly, eccentric, loud
created in: 2012
Family: queen Elinor (wife), Merida (daughter), Harris, Hubert and Hamish (sons)
influence on other toons: As a king he gets respects from his subjects, but not as much as his wife. In fact many toons would not hesitate to mock him a bit, mostly because they know that they will not recieve any punishment.
species: human
comes from: Brave
race: computer-animated
subrace: positive character
nationality: American
religion: Christian
occupation: king of Filmville
Fun facts:
He has a strong olfaction.
His name means "man-strength" or "virility".
As seen in Jailhouse music, Fergus and Elinor were more skeptical about the suggestion for all antagonists to be released, both doubting that this decision will lead to peace.
Relationships-
his family: Fergus truly loves his family. He is a loyal and supportive husband to Elinor and a wonderful father for his children, though his sons seem to respect their mother much more.
Greasy: Of all of the weasels from the Toon patrol, he seems to be the closest with Greasy. The two enjoy listening to their favourite rock bands together and going to bars together.