Kyo Sohma is a major character. He is voiced by Jerry Jewell.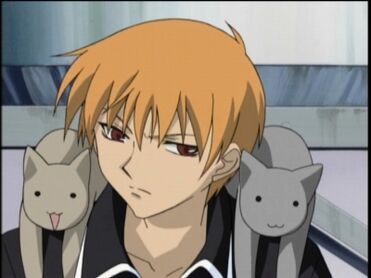 characteristics: tall, slender, broad-shouldered, ginger hair, red eyes, handsome, short-tempered, proud, impulsive, immature, stubborn, shy, loyal
animated age: 18 toon years
real age: 16 real years
species: human
comes from: Fruits basket
nationality: Japanese
religion: Shinto
race: traditionally-animated
subrace: positive character
relations: Tohru Honda (girlfriend)
profession: security guard
influence on other toons: Due to his brash and aggressive nature, he is not very popular in Movietown. He does not have many friends or many interactions with his colleagues.
relationships:
Tohru Honda: Due to his reputation as an outcast, Kyo does not have many friends and is not very popular. Because of this, he does not trust many cartoons, except Tohru. Kyo respects her and strongly cares for her. She seems to be the only one important for him.
Lance: The two usually get along as colleagues, but their relationship is only professional.
trivia:
He turns into a cat, when a strange woman touches him.
He turns into a monster with unattractive scent, when his beads are removed.
He hates leeks.
He often attracts cats (as shown in the image), due to the fact that he represents the spirit of the Cat.
Community content is available under
CC-BY-SA
unless otherwise noted.