Kyon's sister is a secondary character. She is voiced by Kari Wahlgren.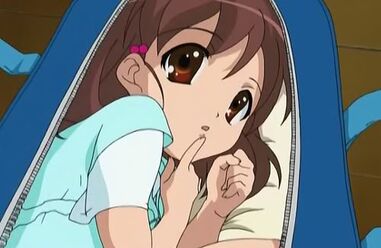 about
[
]
characteristics: slender, brown hair, brown eyes, cute, beautiful, playful, kind, friendly, naive
created in: 2006
species: human
occupation: pupil
race: traditionally-animated
subrace: positive character
comes from: The melancholy of Haruhi Suzumiya
nationality: Japanese
religion: Shinto
relations: Kyon (brother)
relationships:
Kyon: She really loves her brother and always wants to be with him.
Mikuru: She respects and admires her. She wants to be like her.
trivia: