Larry, Walt and Igner are minor antagonists. Walt is voiced by Maurice laMArche, Igner by John DiMaggio and Larry by David Herman.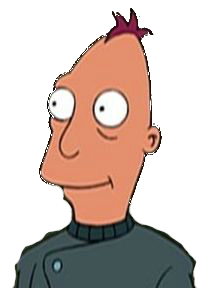 characteristics: Walt- tall, broad-shouldered, black hair, black eyes, handsome, intelligent, obedient, calm, serious, abusive; Larry- broan hair, black eyes, handsome, amaible, sensitive, friendly, innocent, polite, moral, Igner- slender, red hair, black eyes, childish, immature, stupid, ignorant, oblivious, naive
Real age: 17 real years
Animated age: Walt-39 cartoon years; Larry- 37; Igner- 35
Species: Humans
Relations: Mom (mother)
Nationality: Americans
Religion: Christians
Race: Traditionally-animated
Subrace: Antagonists
Come from: Futurama
Relationships
with their mother: They do not seem to have a grudge against their mother. In fact they seem to actually trust her, especially Walt.
with the Horned king: They do not interact much with their ruler but they seem to respect him.
Community content is available under
CC-BY-SA
unless otherwise noted.