Levi Ackerman
is a secondary character. He is voiced by Matthew Mercer.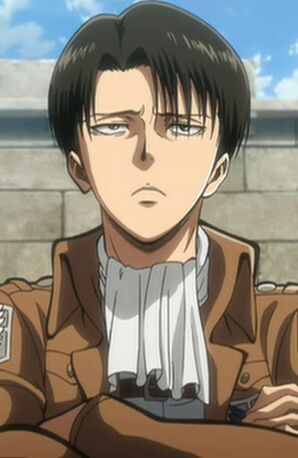 He usually acts as a supporting character, most of the time seen right next to Olivier, Ronin and Nyx .
characteristics: black hair, blue eyes, slender, muscular, short, handsome, calm, collected, fearless, merciless, high sense of morality, loyal, perfectionistic, a bit of a germophob, rude, vulgar, brash
animated age: in his 30's 
real age: 5 real years
species: human
nationality:  Japanese
religion: Shinto
race: traditionally-animated
subrace: positive character
comes from: Attack on titan/Shingeki no Kyojin
relations: Mikasa (relative)
catchphrase: "Tch."
relationships:
Olivier, Ronin and Nyx: Most of the time, he can be seen with them. Not much is known about the relationship between the four soldiers, but they seem to respect each other, since they work very well as a team and they never argue.

Mikasa: Despite being relatives, they relationship is not very stable. Mikasa usually shows cold and distant attitude towards Levi. When they are together, they rarely talk. Despite this, he is shown to care about her.

the Toon patrol: He does not share many scenes with them, but he seems to respect and trust them. They relationship was best displayed in the episodes This means rivalry (where he defended them in front of sceptical soldiers) and Levi and the five weasels.
trivia: 
His original actor is Hiroshi Kamiya.

He is considered to be one of the best soldiers in the Cartoon kingdom and shares the position with Olivier.

He suffers from insomnia- he cannot sleep more than 3 hours a night.

Despite his slender physique and short height, he is shown to be quite muscular and also very strong.

He has a habit of holding a cup by the tip, instead of using the handlers.

He is obsessed with hygiene and tidiness.

He loves drinking tea and collects tea leaves.

He cuts his own hair, using clippers.

Despite that his roles are usually minor, he is the main character in the episodes Levi and the five weasels, Viva Las Ackermans and Sleepless in Filmville.

There are only three things he cannot stand- everything dirty, someone calling him "small" and his colleagues in trouble.
Community content is available under
CC-BY-SA
unless otherwise noted.