Lily Lightly is a secondary character. She is voiced by Erin Mathews.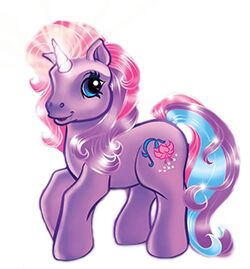 about
[
]
characteristics: slender, pink fur, purple-blue mane and tail, blue eyes, beautiful, kind, friendly, polite, shy, insecure
real age: 10 real years
species: unicorn pony
occupation: works at the fair
nationality: American
religion: Christian
race: traditionally-animated
subrace: positive character
comes from: My little pony A very pony place 
trivia: 
She shares her actress with Toola Roola. 
Her horn start glowing when she feels excited or stressed. She is the only known unicorn with this ability.