Major dr. Ghastly is a minor antagonist. She is voiced by Grey Delisle.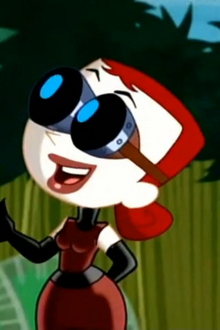 She appears in The good, the bad and the misunderstood as a major antagonist/anti-villain, alongside her boss Hector, whom she is secretly in love with.
characteristics: slender, long red hair, blue eyes, curvy, beautiful, kind, intelligent, diplomatic, flirty, compassionate, loyal, motherly
created in: 2001
species: human
nationality: American
religion: Christian
race: traditionally-animated
subrace: negative character
comes from: Grim and Evil; Evil Con Carne
occupation: inventor
full name: Andedonia J. Ghastly
trivia:
Community content is available under
CC-BY-SA
unless otherwise noted.