Miguel Rivera is a secondary character. He is voiced by Anthony Gonzalez and has a Mexican accent.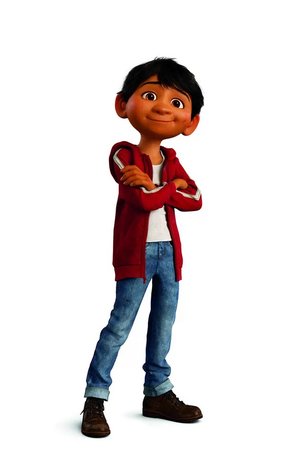 characteristics: brown hair, brown eyes, dark skin, handsome, cute, kind, friendly, polite, modest, stubborn, shy
animated age: 12 toon years
real age: 1 real year
species: human
family: Hector (great-great-grandfather), Imelda (great-great-grandmother), Elena (grandmother), Mama Coco (great-grandmother), Dante and Pepita (pets)
race: computer-animated
subrace: positive character
nationality: American
religion: Christian
comes from: Coco
relationships:
his family: He has a close and loving relationship with his family. He is the closest with Hector, since the two share the same passion for music. He is usually obedient to Imelda and Elena, but he still has some moments when he disagress with them. Of the two family pets, he is closer with Dante and the two of them together go almost everywhere. His relationship with Mama Coco is very stable, since he feels like he can tell her anything.
trivia:
Community content is available under
CC-BY-SA
unless otherwise noted.