Milo Oblong is a major character. He is voiced by Pamela Adlon.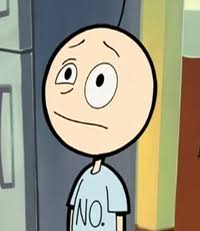 characteristics: slender, bald, black eyes, cute, friendly, kind, gentle, naive, energetic
animated age: 10 toon years
real age: 18 real years
species: human
relations: Bob and Pickles (parents); Beth, Chip and Biff (siblings); Scottie and Lucky (pets)
nationality: American
religion: Christian
comes from: The Oblongs
race: traditionally-animated
subrace: positive character
relationships:
his parents: He has a loving and good relationship with his parents. He really loves them and always seeks their help, when he needs it.
his siblings: He has typical relationships with his siblings. He is often bullied by his older brothers, but he still loves them. He also does not have much enthusiasm when it comes to playing with his little sister, but he loves her.
Marty: Since their fathers are best friends, the two boys eventually became best friends as well.
trivia:
Community content is available under
CC-BY-SA
unless otherwise noted.