Naveen is a major character. He is voiced by Bruno Campos and has a French-Brazilian accent.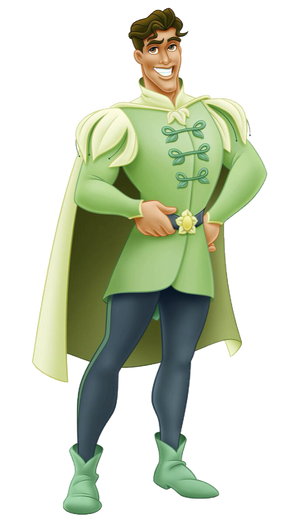 Characteristics: tall, slender, dark skin, brown eyes, brown hair, broad-shouldered, handsome, loyal, kind, intelligent, hedonistic, caring, narcisisstic
Animated age: 21 toon years
Real age: 8 real years
Species: Human
Relations: Tiana (wife), Ray, Louis, Flynn, the Beast, Milo (best friends)
Profession: Cook
Comes from: The princess and the frog
Nationality: American
Religion: Christian
Race: Traditionally-animated
Subrace: Positive character
Relationships:
Tiana: He sincerely loves his wife and always thinks of her happiness, although the two still have moments when they disagree with each other.
the Beast, Milo, Flynn, Ray, Louis: They are his best friends and he always seek support and advice from them, when he needs some.
Catchphrase: "Ashidanza!'; "Faldi Faldonza!"
Trivia:
Community content is available under
CC-BY-SA
unless otherwise noted.