Olivier Mira Armstrong is a secondary character. She is voiced by Stephanie Young.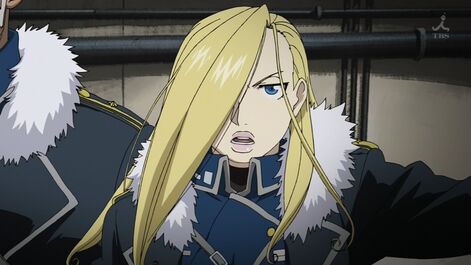 She usually appears as a supporting character, usually right next to Levi, Ronin and Nyx.
characteristics: blue eyes, blonde hair, curvy, beautiful, cold, serious, merciless, fearless, stoic, short-tempered, aggressive, tough, loyal
real age: 9 real years
species: human
nationality: Japanese
religion: none/atheist
race: traditionally-animated
subrace: positive character
comes from: Fullmetal alchemist: Brotherhood
military rank: sergeant
influence on other toons: She is one of the most well known soldiers in Filmville and for a very good reason. She is quite respected by her colleagues and very feared by not only her enemies, but also her allies.
trivia:
She shares her English actress with Arachne.
Her original actress is Yoko Soumi.
She shares her original actress with Zorin.
She is considered to be one of the best soldiers in the Cartoon kingdom and shares the position with Levi.
Community content is available under
CC-BY-SA
unless otherwise noted.