Prohyas Warrior is a major character. He is voiced by Kyle A. Carrozza.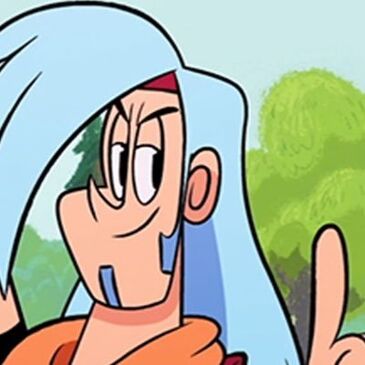 characteristics: tall, slender, broad-shouldered, blue hair, blue eyes, handsome, kind, friendly, energetic, goofy, adventureous, sensitive, easily-annoyed, compassionate, amiable
Animated age: 20 toon years
Real age: 2 real years
Profession: Employee in a sport's centre
Species: Human
Relations: Vambre (sister), Timber Spruce and Gloriosa Daisy (best friends)
Nationality: American
Religion: Christian
Race: Traditionally-animated
Subrace: Positive character
Comes from: Mighty magiswords
relationships: 
Vambre: Prohyas is very close with his sister. He is never afraid to tell her anything that is bothering him and trusts her.
Jen and Rainbow dash : He gets along with them usually, but strongly dislikes Rainbow dash's arrogance.
Trivia:
Dolphins are his favourite animals.
He can play the accordion.
He is also a pretty good singer.
He is the younger twin.
Community content is available under
CC-BY-SA
unless otherwise noted.