Randall Boggs is a major character. He is voiced by Steve Buscemi.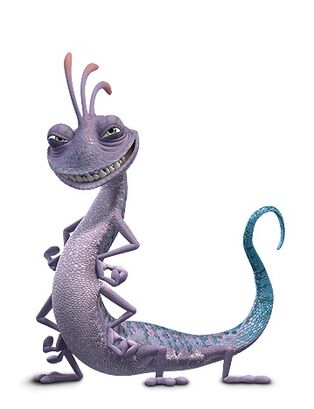 About the character
Edit
Characteristics: tall, thin, purple and blue scales, green eyes, handsome, serious, intelligent, short-tempered, grumpy, good-hearted, competitive, ambitious, arrogant
Animated age: 28 animated years
Real age: 17 real years
Catchphrase: "Uh-huh, sure!"
species: monster
nationality: American
religion: Christian
race: computer-animated
subrace: negative character
comes from: Monsters inc; Monsters university
relationships:
Mike and Sullivan: At first he did not like the idea of working with them, but eventually he learned to accept them more and they become best friends.
Celia: He has a surprisingly stable relationship with her. The two often agree with each other and she seems to be among the few toons, who can actually understand his feelings.
Fun facts:
He is myopic, but refuses to wear glasses, because it makes him feel weak.
He dislikes being called "Randy".
His name means "shield" and "wolf".
He is a surprisingly good singer.
His abilities include camouflage, flexability, invisibility and wall climbing.
He is the among first reformed antagonists in the show.
He is very similar to Vidia, due to the fact that they have a similar color scheme, similar pasts and similar personalities.
Most of his roles are minor, but he is a protagonist in the episode Fantastic racism and where to find it.
Community content is available under
CC-BY-SA
unless otherwise noted.