Rodney Bitterman is a major character. He is voiced by Kath Soucie.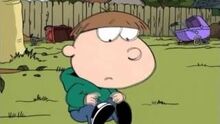 about
characteristics: slender, brown hair, black eyes, mischevous, cunning, sneaky, snarky, loves to take risks, arrogant, loud
animated age: 8 toon years
real age: 17 real years
species: human
relations: Carl and Melinda (parents); Megan and Shelby (siblings)
race: traditionally-animated
subrace: positive character
nationality: American
religion: Christian
comes from: Baby Blues
trivia:
He shares his actress with his sister.
He is the oldest of the Bitterman siblings.
relationships:
his parents: He loves to get on his parents' nerves, but he still loves them. He is closer with his father.
his siblings: He is very close to them, especially Megan.