Rose Thomas is a major character. She is voiced by Colleen Clinkenbeard.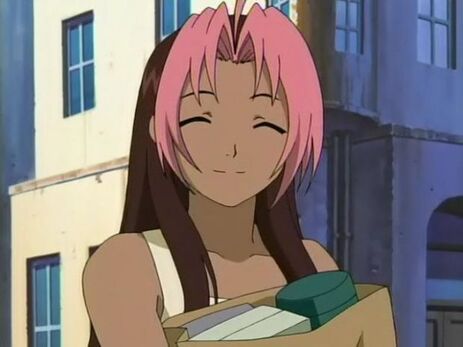 She is a friendly Japanese immigrant who works in a local supermarket, in order to be a good single mother to her baby son. Her roles in the show usually revolve around her relationship with her boyfriend Gimpy.
about
[
]
characteristics: dark skin, purple eyes, brown hair with pink bangs, slender, beautiful, kind, polite, gentle, supportive, prone to emotions, somewhat stubborn, witty, selfless, helpful, friendly
animated age: 18 toon years
created in: 2003
species: human
comes from: the Fullmetal alchemist franchise
race: traditionally-animated
subrace: positive character
family: unnamed son; Miranda (best friend); Gimpy (boyfriend)
nationality: Japanese
religion: Shinto
occupation: works in a supermarket
relationships:
her baby: Rose puts her baby's well-being above anything else. She works very hard to provide anything her child needs.
Miranda: Rose is best friends with Miranda Lotto. Their relationship was best expressed in the episode But I'm unemployed. After the young single mother was fired from her job, due to unknown misunderstandings, Miranda stayed by her side and supported her.
Gimpy: The two first met in the episode But I'm unemployed where Rose was fired from her job which left her forced to look for a new job. She found a job in the arcade place where she met both Coop and Gimpy. She treated both of them with respect, but Gimpy did not return that respect. He felt uncomfortable with her presence and eventually he told her to leave. Luckily, Gimpy apologized to her, after finding out that she has a baby to take care of, all by herself. She forgives him and in the end of the episode they considered the possibility of going out on a date. In the episode Normal activity she has a crush on him and in the end they go out on an actual date, officially becoming a couple. After becoming his girlfriend, she was shown to be very loyal to him, never expressing interest in other men, besides Gimpy. In Lord of the hearts, she was both heartbroken and angry when he accused her of cheating on him, due to a misunderstanding. This made her feel that he does not trust her, which became the reason why she did not accept his apology at first.
Nitz: They do not interact much, but in Lord of the hearts, he visits Rose in her apartment, to ask her give Gimpy a second chance. During their conversation, Rose reveals to Nitz the reason why she fell in love with Gimpy in the first place- she reveals that she was flattered when he came to apologize after the way he treated her in the earlier events in But I'm unemployed and that was the moment when she realized that Gimpy is actually a nice person. After talking to Nitz, Rose makes the decision to accept Gimpy's apology, but on the condition that he will to trust her from that then on.
Andy: They do not seem to be close, but they still get along, as Rose does not seem to mind Andy's company. In Lord of the hearts, Gimpy accidentally sees them together, in a somewhat suggestive pose and he comes to the conclusion that Rose cheated on him, unaware that she and Andy actually did not do anything.
trivia:
Her original actresses are Houko Kawashima (in Fullmetal alchemist) and Satsuki Yukino (Brotherhood).
She shares her original actress Houko Kuwashima with Medusa.
She makes her debut in the episode But I'm unemployed.