Sebastian Michaelis is a secondary character. He is voiced by J. Michael Tatum.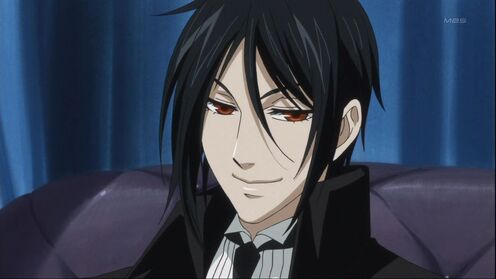 About
Characteristics: black hair, brown eyes (sometimes red), handsome, calm, collected, polite, well-mannered, ruthless, sadistic, comedic. loyal, devoted to his job, intelligent
Real age: 9 real years
Species: Demon
Profession: Butler
Comes from: Black butler
Nationality: Japanese
Religion: Satanist
Race: traditionally-animated
Subrace: Positive/Neutral character
Catchphrase: "I am just one Hell of a butler."; "Yes, my lord!"
trivia:
Cats are his favourite animals and he always gets distracted, when he sees one.
He does not like dogs.
He shares his original actor Daisuke Ono with Itsuki.
His last name comes from the word "mikairi", which means "repayment" in Japanese.