Smarty is a recurring character. He is voiced by David Lander and has a Brooklyn accent.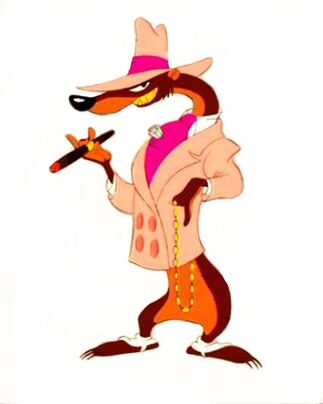 About the character
Edit
Characteristics: slender, brown fur, black eyes, pink coat, white shirt, pink hat, pink necktie, white spats, black nose, handsome, serious, wisecracking, smart, tough, loyal, perfectionistic, vain
created in: 1988
Fun facts:
He very often speaks with malaprops. It is unknown why, but a theory states that it is because of his gangster-like image.
He dislikes being called "old".
Full name: Smart a..
Other names: Wise guy, Smart guy
Catchphrase: He says "What the...?", when he is confused or surprised.
Nationality: American
Religion: Christian
Profession: Police officer
Species: Weasel
Race: Tradtionally-animated
Subrace: Negative character
Comes from: Who framed Roger Rabbit
Relationships-
Community content is available under
CC-BY-SA
unless otherwise noted.