Stacie Roberts is a secondary character. She is voiced by Claire Corlett.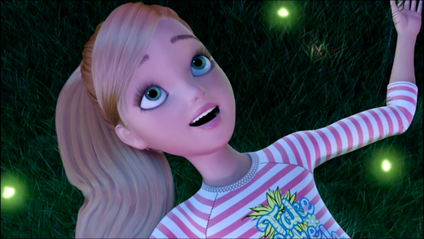 about
[
]
characteristics: slender, blonde hair, blue eyes, beautiful, kind, friendly, polite, athletic, adventurous, snarky, competitive
animated age: 11 toon years
real age: 7 real years
species: human
family: Skipper and Chelsea (sisters); Taffy, Honey, DJ and Rookie Roberts (pets); Millicent (aunt)
race: computer-animated
subrace: positive character
nationality: American
religion: Christian
comes from: the Barbie movies
relationships:
her family: She has different interests, compared to those of her sisters, but she does care about them strongly and appreciates the time she spends with them. She is very loving towards their dogs, especially Rookie, since the two share the same advanturous spirit and love for sport. She aslo has a loving relationship with her aunt Millicent.
trivia:
She shares her actress with Sweetie Belle.
She is the middle one of the Roberts sisters.
Most of her roles are minor, but she is a major character in the episode Work hard, girl.