Tohru Honda is a secondary character. She is voiced by Laura Bailey.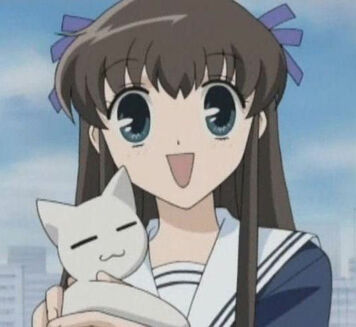 characteristics: slender, flat-chested,blue eyes, brown hair, cute, beautiful, kind, friendly, optimistic, naive, sensitive, easily-offended, cowardly, selfless, loyal, clumsy, intelligent
animated age: 16 toon years
created in: 2001
species: human
comes from: Fruits basket
nationality: Japanese
religion: Shinto
race: traditionally-animated
subrace: positive character
profession: waitress
relations: Kyo (boyfriend)
influence on other toons: She is a complete opposite of her boyfriend and that is why she has a different influence than him. Unlike Kyo, Tohru is actually pretty popular among other toons, she has good interactions with her colleagues and everyone likes her. A lot of cartoon characters wonder, why is she still with Kyo.
relationships:
Kyo: She has an interesting, but good relationship with Kyo. She is the only person, whom he trusts and she really cares about him. Tohru loves being around him and would never leave him.
trivia: