Varian is a major character, formerly an antagonist. He is voiced by Jeremy Jordan.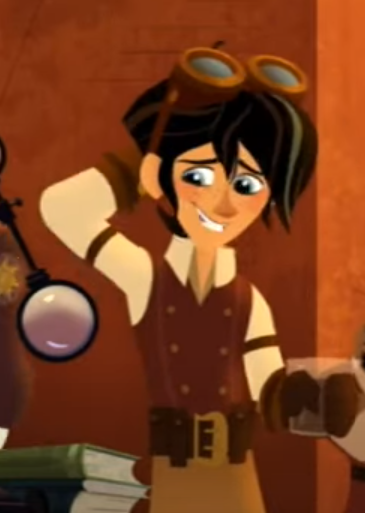 A rookie scientist in Antagonistan, whose goal is to help his people win the war. He makes his debut in Varian takes Antagonistan, where he moves in the said town, after being treated poorly by positive characters. As of Laboratory space, as secondary storylines, Varian becomes a regular bullying target of the Gangreen gang, and develops a crush on Crona.
As of Another Cronarella story, Varian has been living in Movietown as a reformed antagonist.
about
[
]
Characteristics: short, slender, dark skin, blue eyes, black hair with blue stripe, freckles, cute, handsome, intelligent, clumsy, comedic, sarcastic, selfless, desires respect and approval, kind, sweet, generous
animated age: 14 toon years old
created in: 2017
comes from: Tangled/Rapunzel's tangled adventure
race: traditionally-animated
subrace: positive character (formerly negative)
species: human
occupation: alchemist
nationality: American
religion: Christian
family: Ruddiger (pet); Quirin (father)
nicknames: Trina sometimes calls him "Var" for short.
relationships:
trivia:
He is similar to Hiro Hamada.
Due to being an alchemist, he disbelieves in any real supernatural activities.
He has a habit of naming his inventions after toons he admires.