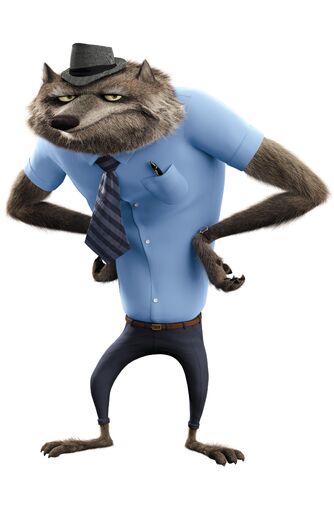 Wayne is a secondary character. He is voiced by Steve Buscemi.
About the character
Edit
Characteristics: tall, slender, handsome, grumpy, serious, loving, sarcastic, patient, surly
Real age: 6 real years
Family: Wanda (wife), The little werewolves (kids)
Fun facts:
He has acrophobia (fear of heights) and he lacks olfaction.
His name means "maker of wagons".
Most of his roles are minor, but he is a major character in the episodes Werewolf children and The boss' speech.
species: werewolf
race: computer-animated
subrace: positive character
nationality: American
religion: Christian
occupation: works in the bank
comes from: the Hotel Transylvania franchise
Relationships:
his wife: He always shows a respectful and tolerant attitude towards his wife.
his children: He does not have a very stable relationship with his children, due to the fact that they constantly disobey him and often use him as a playground. His daughter Winnie is the only one who ever listens to him. Despite the stress his children give him, he does love them.
Kyoya: Wayne's relationship with his boss is just like his colleagues'. He usually obeys Kyoya, but he often cannot understand his true intentions.
Community content is available under
CC-BY-SA
unless otherwise noted.